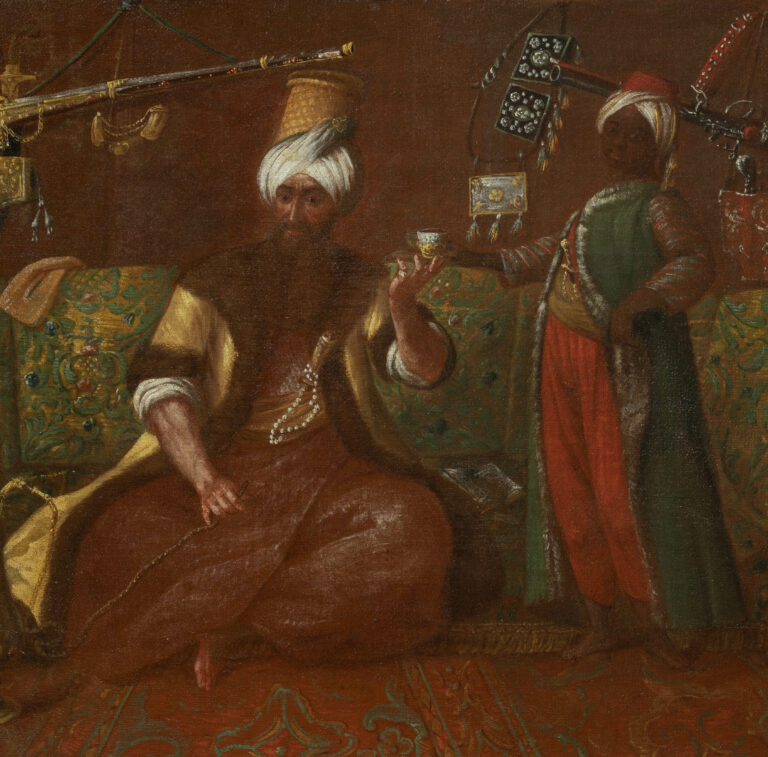 Pietro Longhi
(1701 - Venice - 1785)
Info /
Pietro Longhi
Portrait of Edward Wortley Montagu & His Son Massoud Fortunatus
Oil on canvas, 52 x 67 cm (20.4 x 26.3 In)
The Inscription Translated reads: "Edward Wortlejus Montagu, a noble Englishman, a member of the Royal Society and Institute of Bonn, a worshipper of science. He visited almost the entire globe and all the peoples therein. Focusing on historical, critical, and philosophical observations, he illustrated the monuments of Antiquity. He was very well versed in the languages of the East and in the customs of Confucius, and as a supporter of the poets, himself deserved to obtain the dignity of Beij, or prince. His most admirable traits always shone forth, and he met his end with civility and with a full heart. Still alive, nothing **** (Indecipherable)"
Pietro Longhi was renowned in Venice for his small paintings representing scenes of the foibles of eighteenth-century Venetian society as well as the curiosities and intrigues which carnival afforded, which were avidly collected by patrician Venetian families as well as Grand Tourists.
This painting of Edward Wortley Montagu, a renowned English eccentric & traveller, falls into a recognisable group of Longhi's "curiosity" paintings relating closely to his elephant, rhino, lion, and Irish giant paintings.
These paintings of "Curiosities" were very much in vogue in 18th century Venice and satisfied a thirst for everything exotic and bizarre which was a hallmark of the enlightenment era and more particularly of Venice with its trade routes to the East and love of novelty. Edward Wortley Montagu was one such eccentric novelty, born in England of aristocratic parents, from an early age he was unruly, running away from school and taking ship to Oporto. This hunger for travel led to him developing a passion for the Middle East and its languages, and eventually being fluent in Hebrew, Arabic, Aramaic and Persian. He lived for a period in Egypt from where he undertook expeditions to Armenia, Sinai and Jerusalem and it was during these travels that he adopted Armenian dress considering it far superior to anything else and henceforth wore nothing else. Finally, after a great many escapades which included bigamy, gambling rackets and flights from the law, he eventually settled in Venice where he was considered as a tourist attraction. Samuel Sharp, a grand tourist, in 1767 remarked that "One of the most curious sights amongst the curiosities at Venice, was the famous Mr. Montague. his beard reached down to his breast, and the dress of his head was Armenian. He was in the most enthusiastick raptures with Arabia and the Arabs: his bed was the ground, his food rice, his beverage water, his luxury a pipe and coffee."
The young boy who proffers a drink in the painting, is very likely to be Wortley Montagu's son, Massoud Fortunatus Montagu, who was born in 1762 as the result of a dalliance with a woman named Ayesha whilst living in Cairo. Massoud was very much adored by his father and lived with him in Venice and Padua, looking after him during his final illness. On his father's death in 1776 he inherited £5,000, his father's library of rare Arabic books and was sent to be educated in England. Massoud thereafter lived in Marylebone, Grosvenor Square and finally Frant in Sussex where he died in 1798.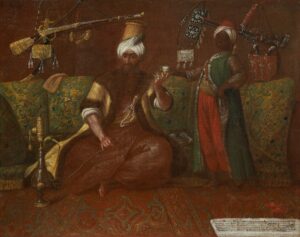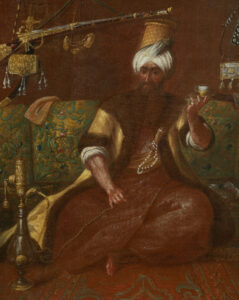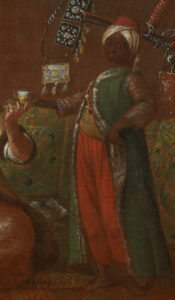 Contact us
for more information